BENX - The Future of Facades
How can we help you today?
About Benx
From masonry to framed construction, high to low rise, site-based to offsite, Benx offers a façade solution.
For more than 20 years, Benx has been a leading innovator in the facades sector. We are constantly refining our portfolio of products, systems and services in line with our customers' requirements. In recent years, this has meant an increased focus on supplying fully certified systems and supporting modern methods of construction.
We now offer certified façade systems for most new build, retrofit and reclad project types, and, whether you are a cladding installer, a fully-fledged volumetric manufacturer or are simply seeking to reduce on-site content, we can help.
We offer you more choice whilst reducing complexity and risk. We believe our approach is the future of façades.
Why Benx?
One
Supplier

Our joined-up approach negates the need for you to reach out to numerous component and system suppliers; we offer you a simple and reliable supply chain.

Huge Range
of Products

From timber to steel frame, high to low rise, internal to external wall linings and buildings with high weather exposure, Benx offers a solution.

Testing &
Accreditation

We believe we operate one of the most far-reaching certification and accreditation processes in the industry.

Technical
Support

Our comprehensive testing and accreditation process is backed by technical and design support.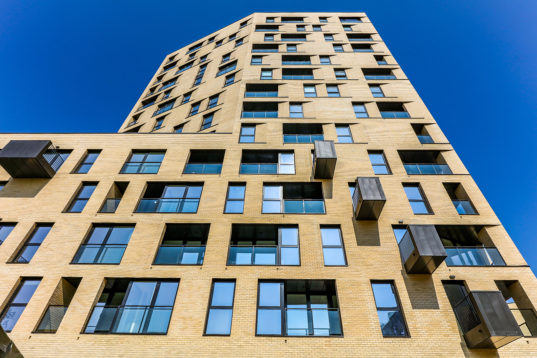 City Park West Case Study
Essex
Located on the former Anglia Ruskin University site, in the heart of Chelmsford, City Park West is a newly created vibrant community. City Park West offers nearly 650 houses including shared ownership,...
Case Studies
Thames Park School

Grays, Essex

Introduction: The Innovaré Offsite Ltd school construction programme is part of the Department for Education's...

Kent Steet Baths

Birmingham

Kent Street is a new development of 504 new homes for Lupa Land in the heart of Birmingham. The site...

Polden House Case Study

Bristol

Built in 1965, Polden House, a high-rise tower block in the suburb of Bristol has undergone a multi-million-pound...

Foundation 200

Cambridge

RCM has agreed a strategic partnership with Volumetric Ltd, to supply its Allface support system together...

Wheatstone House Case Study

London

Eye-catching, fire-safe Cavity System 2 and SpeedySlip Brick Façade for Wheatstone House, London What...

Solihull Retirement Village Case Study

Solihull

With 260 homes, Solihull Retirement Village is a new architectural identity and important gateway site...

Earlsdon Retirement Village Case Study

Coventry

As part of the phase 2 development of Earlsdon Retirement Village in Coventry, SPSenvirowall and RCM,...

The Tramyard Case Study

London

Award-winning London property developer Joseph Homes has launched a collection of stylish and vibrant...

Warmer Streets Case Study

Dartford

The Warmer Streets Dartford project was set up after Dartford Borough Council secured £3m worth of Green...

Merthyr Town Case Study

Merthyr Tydfil

Merthyr Town project is a blended funded programme consisting of Welsh Government Funding, Eco and Landlord...

Normand House Case Study

Cwmbran

Normand House is a refurbishment project and is part of a £500 million scheme set by Bron Avon Housing...

Bestwood Estate Case Study

Hucknall

Completed in 2018 and shortlisted for an INCA Refurbishment Award, a series of flats, houses and bungalows...

Hunters Close Case Study

Plymouth

Some 132 properties in Hunter Close, Plymouth have been upgraded with the application of SPSenvirowall's...

Torridge Way Case Study

Plymouth

SPSenvirowall's Wall System 2 with 100mm mineral wool delivers a dramatic refurbishment for a regeneration...

St Lucia Park Case Study

Hampshire

Ex MOD homes gain new a lease of life thanks to the installation of SPSenvirowall's Wall System 2,...

Romorantin Place Case Study

Long Eaton

SPSenvirowall's Wall System 2 Transforms Decommissioned Block in Long Eaton The Project Decommissioned...

Raeburn Heights Case Study

Glenrothes

Raeburn Heights is a 16 storey residential high rise block in Glenrothes, Fife which has recently undergone...

Lon Cymru Case Study

Llandudno

The Objective Lon Cymru in Llandudno recently benefitted from energy efficiency improvements as part...

Arley and Atherstone Case Study

Warwickshire

The Project Homes in the Arley and Atherstone areas received new insulated render systems after a three...

Llantarnam Case Study

Llantarnam

The Objective This private refurbishment project, completed in stages from July 2013 to its completion...

Ffrwd Farm Case Study

Pembrey

The Objective External wall insulation was chosen for the refurbishment of this 400 year old farm in...

Alma Hill Case Study

Nottingham

The Project Completed in October 2015, this solid brick refurbishment on Alma Hill which received GDHIF...

Derby City Scheme Case Study

Derby

Completed in November 2015, this mixture of solid brick, REEMA, Tru Steel, No Fines and Old Tanks refurbishments...

Wellington Warmer Homes Case Study

Taunton

122 properties in the Priory area of Wellington have been totally transformed with the application of...

Sedgewick & Barwick Case Study

Bristol

The Objective The Sedgewick and Barwick high rise building in Bristol is council owned and has been in...

Sandfields Case Study

Swansea

Nestled alongside the Mumbles Mile, Sandfields in Swansea was declared a renewal area in January 2014...

Cumberland Towers Case Study

Ipswich

Since March 2018, residents of Cumberland Towers have been enjoying the completion of £1.8m of repairs...

The Depot Case Study

Bath

Quality is high on the list for the development of modern student accommodation. Student Housing Company,...

Finzels Reach Case Study

Bristol

The new Premier Inn is a new 168 bedroomed hotel and part of the 4.7 acre, mixed-use Finzels Reach development...

Trinity School Case Study

Kent

Sevenoak's newest school building opened its doors in September 2016 after a £14million development...

Newgate Centre Case Study

Newcastle

SPSenvirowall Products Help Regeneration of City Centre Site. A 1960's shopping centre in Newcastle...

Premier Inn Cardiff Case Study

Cardiff Bay

Located near the centre of Cardiff Bay, Premier Inn was recently completed by installers Build-Therm...

Kew Bridge Case Study

London

Kew Bridge West is a contemporary collection of a 336 private apartments located within a number of buildings...

Liberty Gardens Case Study

Cardiff

This is a fast track construction of student accommodation in the centre of Cardiff. The frame of the...

Sterte Court Case Study

Poole

The Sterte Court development comprises of 20 apartments over four storeys, 18 of which belong to RSL,...

Tudor Rose Court Case Study

Southsea

Tudor Rose Court is a modern retirement development located on the former site of the Savoy Buildings...

Sunbeam Case Study

Lancing

SPSenvirowall TS Rail external wall insulation system has been specified for a unique new build development...

Panorama Case Study

Uxbridge

SPSenvirowall has worked with approved installer, Stanmore, on the prestigious Panorama development in...

Canterbury Road Case Study

Croydon

An eye catching four to five storey development in Croydon will deliver a mixture of 22 homes for affordable...

Marina Gardens Case Study

Portishead

The Marina Gardens landmark development in Portishead provides 126 one and two bedroom homes across 6...

Shoreham Academy Case Study

Brighton

SPSenvirowall's TS Rail System combines aesthetics with practicality at Shoreham Academy. Beard Construction...

Maylands Plaza Case Study

Hemel Hempstead

Hightown's flagship development on Maylands Avenue, Hemel Hempstead has brought two new modern buildings...

Oxford Point Case Study

Bournemouth

New student accommodation part of development across three sites for additional teaching space, student...

Acton Lane Case Study

London

SPSenvirowall are delighted to have supplied to a now completed residential care development project...

Millbay Arena Village Case Study

Plymouth

Millbay marina is an area of docklands in Plymouth undergoing a considerable regeneration. Muse developments,...

Kennet House Case Study

Reading

The Objective Kennet House is a unique project in the centre of Reading. Originally a 1960s office block,...

Junction 3 Case Study

Bristol

The Junction 3 development comprises of 59 affordable homes incorporating sustainable, energy saving...

Berry Court Case Study

Bournemouth

Located on St Peter's Road, Bournemouth, Berry Court is a new build residential development recently...

Quartermile Q10 Case Study

Edinburgh

Set in the grounds of the former Edinburgh Royal Infirmary at Lauriston in the heart of Edinburgh overlooking...

Roseberry Place Case Study

Bath

SPSenvirowall TS Rail system specified for major mixed-use regeneration scheme in Bath. SPSenvirowall...

Hawkins Lane Case Study

Bristol

SPSenvirowall's TS Rail with mineral wool and EnviroSil has been utilised for the Hawkins Lane high-quality...

The Pump Tower Case Study

London

An elegant 24 storey mixed use scheme, The Pump Tower development sits proudly at the heart of the Royal...

Langley Academy Case Study

Slough

The Project Langley Academy Primary School, is a modern 2 storey new development which will house 630...

Morriston Hospital Case Study

Morriston

Morriston Hospital has undertaken major redevelopment in recent years, transforming the hospital's...

Wixams Retirement Village Case Study

Bedford

SPSenvirowall high-performance render only system used on new £44 million Wixams Retirement ExtraCare...

One New Malden – Blagdon House

New Malden

One New Malden is a striking 12-storey landmark development on Blagdon Road in the heart of New Malden...

Windsor House

Windsor House

Render goals achieved for Sutton's newest residential development. The development by Providence Construction...

Little Miracles

Peterborough

Created in 1972, The Spinney, a centre in which the Local Community Association could run a play scheme,...

Maryport and Parton

Cumbria

The Project Nestled alongside the coastline, Home Group tenants in the areas of Maryport and Parton in...

Dan Y Coed

Pontsticill

Lying within the valley of the Taf Fechan, at Pontsticill in The Brecon Beacons National Park, main contractor,...

Sandsfields Scheme 4

Swansea

Nestled alongside the Mumbles Mile, Sandfields in Swansea was declared a renewal area in January 2014...

Primrose Park

Plymouth

Primrose Park, sits on a former school site, brought forward by Plymouth City Council for development...

TRS Apartments

Middlesex

Previously an office block, TRS Apartments is the latest high-rise building in Middlesex to undergo a...

Aurora

Bristol

SPSenvirowall's Wall System 1 was specified for the 95,000 square foot grade A landmark headquarter...

University of West England

Bristol

The University of West England has added high-quality accommodation to its Frenchay campus. The buildings...

Howard Gardens

Cardiff

Howard Gardens, student accommodation in Cardiff is set to be available ahead of the 2020/21 academic...

Hen Eglwys

Newport

SPSenvirowall silicone render and clay brick slips has been specified for this contemporary new build...

Bromsgrove Street

Birmingham

88 Bromsgrove Street is a 140-bed luxury student accommodation perfectly located for anyone studying...

Twinnell House

Bristol

Twinnell House is an 18 storey residential block of flats in Bristol. The instalment of EWI for the refurbishment...

Holiday Inn Express

Birmingham

Forming part of a £400m Birmingham City Centre scheme the new 17 storey, 250 bedroom Holiday Inn Express...

University of Warwick

Warwickshire

The University of Warwick is investing £49m into sport and wellness across the University with a brand...

The Strand

Swansea

The regeneration of Swansea's old docklands has seen old, dilapidated warehouses and disused yards...

Ascot Road

London

A former brownfield site on Ascot Road, Watford is undergoing a transformation to provide a new residential-led...

Hotel La Tour

Birmingham

Plans were passed in 2012 for the construction of an outstanding hotel in Birmingham city centre. The...

Moneypenny Headquarters

Wrexham

The UK's leading telephone answering specialist Moneypenny had steadily been growing since its inception...

St Mary's Island

Kent

St Mary's Island is an attractive new build residential development in Chatham, Kent. EWI installers,...

Barham Park

London

Countryside Properties, working in partnership with Notting Hill Housing and the London Borough of Brent,...

Bradford Close

Woking

New Central Woking is a £55 million mixed-use housing and retail development in Woking town centre....

Albert Road

London

Watling Place is the first phase of a major regeneration master-plan by the London Borough of Brent and...

Kaleidoscope

Cambridge

The Objective Kaleidoscope is a new, highly sophisticated and modern development of 408 new and contemporary...

Rathbone Market Case Study

London

Rathbone Market is one of six schemes in the UK that has been delivered by English Cities fund (ECf),...

Greenwich Peninsula

London

Greenwich Peninsula is a unique and eclectic development by Knight Dragon in the centre of South East...

Riverlight Case Study

London

During the early 19th Century, a large section of the South Bank of the River Thames, London, comprised...

Premier Inn, Walsall Waterfront Case Study

Walsall

In 2012 the town of Walsall underwent a major regeneration. The Waterfront North site was developed after...

Blackburn

Blackburn City

SPSenvirowall's RendaClad with SpeedySlip Façade Features in Modular Housing Scheme SPSenvirowall's...

NHS Langdon Hospital Case Study

Dawlish

In January 2008, the Devon Partnership NHS Foundation Trust approved plans for a major redevelopment...

Granton Harbour

Edinburgh

Located in the north of Edinburgh with convenient transport links and within easy reach of the city centre,...

Penryn Student Accommodation

Cornwall

The Station Road development provides contemporary student accommodation for 233 students in clusters...

Trelawney Gardens

Cornwall

A brand new Devon and Cornwall Housing development scheme called Trelawny Gardens is a prominently located...

The International Quarter Case Study

London

The International Quarter is a unique mixed-use scheme providing an inspiring new business environment,...

Embassy Gardens Case Study

London

A regeneration development in Vauxhall by the Ballymore Group has seen the biggest transformation story...

University of Hertfordshire

Hertfordshire

Going to university is an excellent opportunity for students to live independently for the first time....

Skerries Road

Plymouth

Skerries Road Southway Campus in Plymouth comprises of 67 timber frame units supplied by local manufacturer...

Bamfylde Way, Plymouth

Plymouth

After the successful build of 67 units at Porsham Heights, the working collaboration between SPSenvirowall,...

Vedelers Close – Wincanton

Somerset, Wincanton

Rent to Buy properties in Vedelers Close, a new 2 and 3 bedroom development in the small and charming...

Pen Y Bont Case Study

Abersoch

Pen-Y-Bont is a development of new build waterfront properties in the popular seaside resort of Abersoch. A...

Conninbrook Lakes

Ashford, Kent

A major development has seen the creation of some 300 contemporary new homes in the heart of a country...

Manor Park Case Study

Ashford, Kent

Manor Park is a new build development of 53 homes, located on the northern edge of Ashford in Kent. Persimmon...

Bourne Fields Case Study

Aldridge Walsall

Bourne Fields is the name of Cameron Homes' flagship development of 14 exclusive five-bedroom luxury...
Contact Us
Benx Group Companies
Leading the way in the supply of external wall insulation systems and high-quality decorative renders to the building and construction industry for new build and refurbishment applications.

Supplying specialist building boards, façades, breather membranes and airtightness solutions, RCM offers a fully integrated approach to the building envelope whilst
delivering on time and budget.